The top Chinese and U.S. business and trade officials met Thursday in Washington, an infrequent direct conversation between leaders of the world's two biggest economies.
The U.S. Commerce Department said in a statement Thursday that Chinese Minister of Commerce Wang Wentao and U.S. Commerce Secretary Gina Raimond had "candid and substantive discussions on issues relating to the U.S.-China commercial relationship."
Thursday's meeting, the department said, "was part of ongoing efforts to maintain open lines of communication and responsibly manage" the U.S.-China relationship.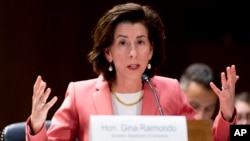 FILE - Commerce Secretary Gina Raimondo speaks during a Senate Appropriations hearing on the President's proposed budget request for fiscal year 2024, on Capitol Hill in Washington, May 16, 2023
While U.S. President Joe Biden met with Chinese leader Xi Jinping in Bali last November, Thursday's trade talks in Washington were the first cabinet-level meeting in the U.S. capital between American and Chinese officials during the Biden administration.
Wang is in the United States for the 2023 APEC Ministers Responsible for Trade Meeting, in Detroit - a city in the U.S. state of Michigan - on Thursday and Friday.
Common concerns
In the Washington talks, China expressed its views on China-U.S. relations and issues of common concern, Shu Jueting, the Chinese Commerce Ministry spokesperson, told a regular briefing in Beijing.
On Monday, Wang met with representatives of U.S. firms in Shanghai, including Johnson & Johnson, 3M, Dow, Merck, and Honeywell, according to the ministry, telling them that 'China will continue to welcome U.S.-funded enterprises to develop in China and achieve win-win results.'
But China on Sunday declared U.S. chip manufacturer Micron a national security risk and banned the firm from selling its memory chips to key domestic industries. The ban followed a series of raids on American consultancies operating in China.
'De-risk' without 'decoupling'
Wang's trip to the U.S. follows a recent summit in Hiroshima, Japan, of the leaders of the Group of Seven leading industrialized countries, at which Biden and other G7 leaders took aim at China over 'economic coercion' and said they would 'de-risk' without 'decoupling' from the world's second-largest economy on an array of products.
'China hopes the G7 will not abuse trade and investment restrictions while saying that they will not seek to decouple from the country,' Shu said.
Wang met earlier in May with U.S. Ambassador to China Nicholas Burns in Beijing amid speculation about a visit from top U.S. officials. U.S. Secretary of State Antony Blinken postponed a trip in February after the U.S. shot down a Chinese spy balloon that flew over sensitive military sites.
Raimondo and Blinken, as well as U.S. Treasury Secretary Janet Yellen, have all expressed interest in visiting China.
Some information in this report came from Reuters